Businesses can analyse iX cloud ERP data with Microsoft Power BI to enable business intelligence power for their business, this integration has several benefits and will contribute positively to business growth.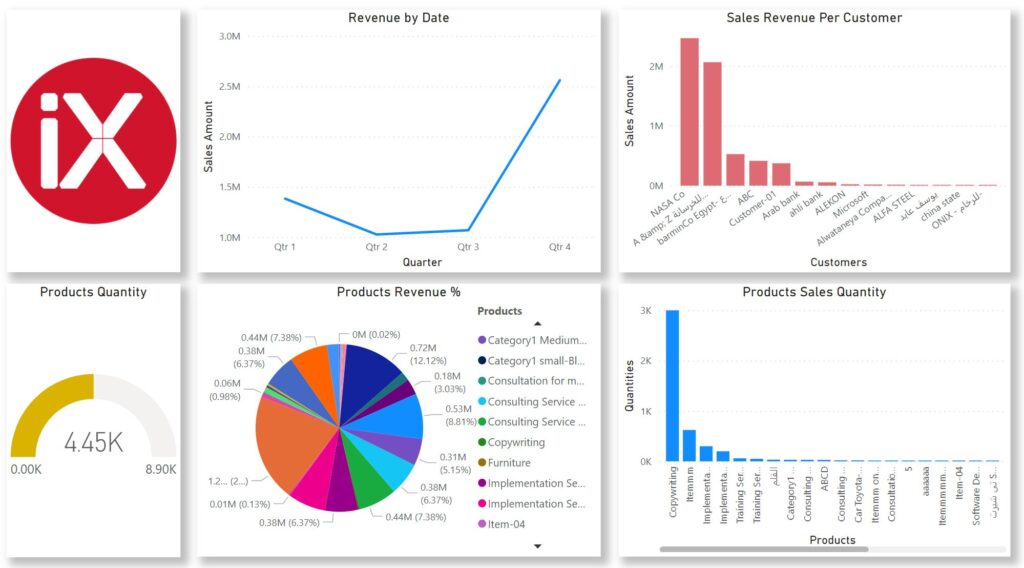 The iX ERP Integration with Microsoft Power BI brings up to date data about your business with deep analysis to give management and business owners very fast and updated information to support their day to day decisions.
Once you establish a connection with iX ERP businesses can create their own dashboards based on their requirement or import a ready-made dashboard that suits their business, with each created dashboard you can define a specific metric to monitor an aspect of your business.
Using iX ERP integration with Microsoft Power BI businesses can create and define their KPIs to be monitored in real-time and notify the management team with changes that they need to consider when making decisions.
Using Microsoft Power BI Mobile Application, users can access dashboards and custom reports on the go based on their access permissions, this will give employees and management team faster access to up-to-date information and will contribute positively to their function and support business growth.
Analyse iX Cloud ERP Data with Microsoft Power BI will add a new dimension to your iX ERP data, it will let you see your business from different aspects that you have never seen before.
Conclusion:
The iX Cloud ERP integration with Microsoft Power BI brings several business intelligence (BI) and artificial intelligence (AI) features to your business that can help you, your team and your business to have better performance and make effective decisions, it will allow faster access to information anytime even on the go to enable faster business growth.
Useful Links: